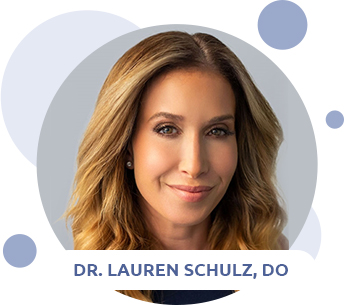 Urologist
About Dr. Lauren Schulz
Lauren B. Schulz, DO, FACOS is a board-certified urologist and native New Yorker based out of New York City. Dr. Schulz is one of only 500 female urologists in the world and the first female urologist to join New York Health. She has over ten years of diverse urologic experience catering to the unique needs of men and women.
Dr. Schulz has a strong interest in sexual medicine and the diagnosis and treatment of men and women with sexual health concerns, helping her patients improve their quality of life.
She has been expertly trained in general urology and urological surgery, specializing in women's health and female urological disorders. Her areas of expertise include advanced treatments targeting prostate health, urologic oncology, sexual and voiding dysfunction, in-office vasectomies, kidney stones, and urinary tract infection management and prevention.
Dr. Schulz completed her undergraduate studies at Stony Brook University before attending New York College of Osteopathic Medicine. While completing her medical studies, Dr. Schulz earned a Master of Science degree and Pre-Doctoral Academic Medicine Fellowship at The New York Institute of Technology. She was elected to the National Osteopathic Honor Society, Psi Sigma Alpha, and earned a coveted urology residency at Einstein Medical Center in Philadelphia.
Her training included formative experiences in Urologic Oncology at Memorial Sloan Kettering Cancer Center, Pediatric Urology at the Children's Hospital of Philadelphia, and Urogynecology at Hahnemann University Hospital.
Dr. Schulz is a Fellow of the American College Of Osteopathic Surgeons and an active member of the American Urological Association, International Society For The Study Of Women's Sexual Health, Society for Women in Urology, American Osteopath.
Office locations
285 Lexington AvenueNew York, NY 10016
Specialties
Urologist
Practice names
New York Health
Education and training
Medical School - New York Institute of Technology, New York College of Osteopathic Medicine, Doctor of Osteopathic Medicine
Albert Einstein Medical Center, Residency in Urology
State University of New York, Stony Brook (Bachelor's)
Professional memberships
American Urological Association
American College of Osteopathic Surgeons
Society of Women in Urology
Languages spoken
English
Provider's gender
Female
NPI number
1912134727